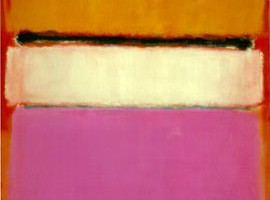 The Chrysler Museum of Art in Norfolk, Virginia has announced an exhibition entitled Mark Rothko: Perceptions of Being. The exhibition is scheduled from Sept. 28 until Jan. 8, 2012.
Featured in the exhibit is the Chrysler's own No. 5 (Untitled), 1949 along with five additional paintings from National Gallery of Art in Washington D.C. Mark Rothko: Perceptions of Being is a study on the evolution of this important American artist's work over the course of his career.
The viewer's perception and emotional relationship with his work were an essential concern for Rothko. This exhibition aims to reproduce the viewing experience that Rothko considered essential to fully experiencing his work. Rothko has been quoted as saying that his large canvases not simply to emphasize their grandiose quality, but to wrap the viewer in a "very intimate and human" visual environment.
More about Mark Rothko.
More information at Chrysler Museum of Art.