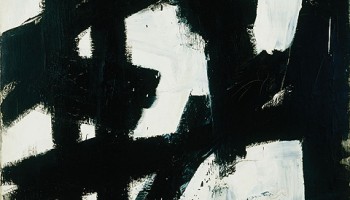 "Modern Masters from the Smithsonian American Art Museum," which examines the complex nature of art in mid-century America, will be on view at Reynolda House Museum of American Art beginning Friday, October 7th through December 31, 2011.
Modern Masters from the Smithsonian American Art Museum features 31 of the most celebrated artists who gained prominence in the 1950s with 43 important paintings and sculptures selected from the Smithsonian American Art collection.
The exhibition is categorized based upon three loosely-conceived themes: "Significant Gestures" focuses on artwork executed with broad strokes of brilliant color which became the signature style for artists such as Franz Kline, Michael Goldberg, Hans Hofmann, Sam Francis, Joan Mitchell, and others who came to be known as abstract expressionists. "Optics and Order" focuses on Josef Albers and his examination of symmetrical proportion and carefully balanced color, and those who built on his ideas: Ilya Bolotowsky, Louise Nevelson, Esteban Vicente, Ad Reinhardt, and Anne Truitt. "New Images of Man" includes Nathan Oliveira, Romare Bearden, Larry Rivers, Jim Dine, David Driskell, and Grace Hartigan, each of whom searched their surroundings and personal lives for vignettes emblematic of larger universal concerns.