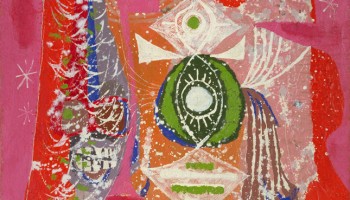 Byron Browne was born in Yonkers, New York in 1907. He was a celebrated abstract artist, designer and sculptor.
Born George Byron Brown, he would eventually drop his first name, although his name does occasionally appear as George-Byron Browne or George B. Browne.
He studied art at the National Academy of Design, NYC (1924-1928), where at an early age he won numerous awards.  Influenced by the European modernists, Browne began to experiment with abstract art in 1927 and by 1929 painted abstracts exclusively. He famously destroyed his prize winning canvases along with most of his representational works of that period as a protest to the schools refusal to embrace modernism.
Byron Browne was an active member of the American Avant Garde art movement in the 1930's and 40's along with Willem de Kooning, Balcomb Greene, Arshile Gorky, and Ilya Bolotowsky. It was through their efforts that made New York an influential center of the art world.
A staunch advocate of abstract art; he along with Balcomb Greene and his future wife Rosalind Bengelsdorf formed the group American Abstract Artists in 1935. He went on to create some of the first public abstract murals in the United States including; The Rockefeller Center, Chronic Disease Hospital, and for the 1939 World's Fair.
Byron Browne and Rosalind Benglesdorf were married in 1940. Rosalind was an artist and a writer who shared her husband's pursuit and advocacy for the advancement of abstract art in America.
Byron Browne became a painting instructor at the Art Students League in 1948. He taught at the A.S.L. until 1959. The school would later designate a scholarship in his name. In 1959 he began teaching advanced painting techniques at New York University until his untimely death in 1961.