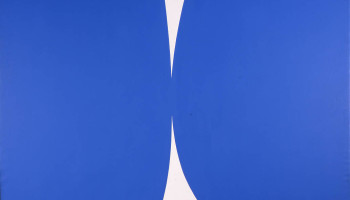 Ellsworth Kelly, one of the last of the American masters of abstract art, has died. He was 92.
The painter/sculptor died Sunday at his home in Spencertown, N.Y., according to Matthew Marks of the Matthew Marks Gallery in Manhattan.
"He was simply one of the great modern painters of our era, certainly of the 20th century," says Harry Cooper, head curator of Modern Art at the National Gallery of Art in Washington.
Kelly was a giant among world artists, with enormous influence, according to Art News.
"He was among a handful of artists, emerging in the years after World War II, who defined the art of the past half-century, and with his death, that thrilling chapter of art history is, sadly, beginning to come to a close," the leading art-news publication reported.
He became "something of a brand," sort of like Jackson Pollock, says Cooper, who is working to put on display one of the gallery's Kelly works in his honor as soon as possible.
"He was totally original, committed to his kind of abstraction, and he never wavered," says Cooper. "His was an apparently simple kind of art, made up of colored shapes, one color per shape. He hit on that in the 1960s and stuck with it but what he managed to do with that was sort of endless. There are so many shapes and colors to work with, and there was always something interesting going on, something to discover.
"He never painted a straight rectangle one color, because that would not have been interesting" to him, Cooper said.
Kelly was a favorite of collectors of modern art but also did major commissions of public art. Cooper says his Boston Panels (1998), at the federal courthouse in Boston, are among his best known. He's also designed a chapel for the Blanton Museum of Art in Austin.
Kelly was born in Newburgh, N.Y., on May 31, 1923, and studied painting at the School of the Museum of Fine Arts in Boston after his discharge from the Army in 1945.
But, as with many American artists, Paris exerted a special hold on him as an artist. He had been there during the war, and returned there in 1948 with support from the G.I. Bill. He spent seven years in the City of Light, years that continued to influence his work decades later.
"Paris was gray after the war," he recalled in a 1996 interview with The New York Times. "I liked being alone. I liked being a stranger. I didn't speak French very well, and I liked the silence."
Leave a Reply