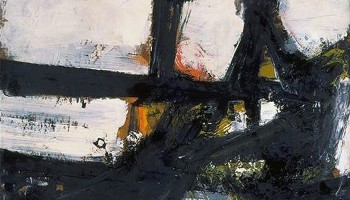 Franz Jozef Kline was born May 23 1910 in Wilkes-Barre, Pennsylvania. He studied at Girard College before attending Boston University.  He then took art courses at the Art Students League in Boston from 1931 to 1935 and traveled abroad to London from 1936 to 1938 and studied at the Heatherly School of Fine Arts.
When he returned to the States in 1939, he moved to New York where he met and became friends with the artist Willem de Kooning.  It was through de Kooning that Hans became acquainted with many of the leading American abstract artists working in New York at the time, including Jackson Pollock, Philip Guston and Bradley Walker Tomlin. Franz Kline began his career creating figurative paintings, but the influence of these artists had a tremendous impact on Kline and during the 1940's his work became increasingly more abstract and ultimately created a visual language uniquely his own.
It wasn't until 1950 that Franz Kline held his first one-man show at the Charles Egan Gallery in New York City. That show introduced to the world his signature style of large canvases with black brushstrokes against white backgrounds for which he is most famous for. In 1957 he began to incorporate color into his work. Feeling that his experimentation with color was a failure, by 1961 he had stopped painting altogether.
Franz Kline died of heart failure in New York on May 13, 1962.