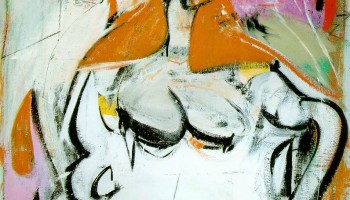 The Museum of Modern Art in New York has just opened the first major exhibition focused on the entire output of Willem de Kooning's career. This major retrospective will be open to the public from September 18, 2011, until January 9, 2012.
This exhibition provides us with a once in a lifetime opportunity to examine the de Kooning's  artistic developments from a career that lasted nearly 70 years, beginning with his early works as an art student in Holland before moving to the U.S. in 1926, to the sparse abstract works of the late 1980s.
Consisting of nearly 200 works from collections all over the world, this massive retrospective is the first to take up the Museum's entire 17,000 square feet sixth-floor exhibition space.
This retrospective represents every stage of de Kooning's artistic output from 1916–17 to 1987, including paintings, sculptures, drawings, and prints.
Among the works on view are the artist's most famous, landmark paintings-Pink Angels (c. 1945), Excavation (1950), and the celebrated third Woman series (1950–53)-plus in-depth presentations of all his most important series, ranging from his figurative paintings of the early 1940s to the breakthrough black-and-white compositions of 1948– 49, and from the urban abstractions of the mid 1950s to the artist's return to figuration in the 1960s, as well as the large gestural abstractions of the following decade. Also included is de Kooning's famous yet rarely seen theatrical backdrop, the 17-foot-square Labyrinth (1946).
More information at MoMA