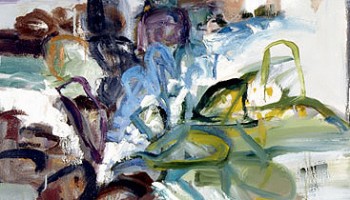 Michael Mazur was born November 2, 1935 in New York City. He was a celebrated academist who received his Bachelors Degree from Amherst College in 1957 and his Masters Degree from the Yale School of Art and Architecture in 1961. He received his first teaching assignment in 1965 at the Rhode Island School of Design. He began teaching at the taught at Brandeis University in 1965 and at Harvard in 1976.
As an artist, teacher, and writer, Mazur has been attributed for reviving the monotype process. Monotype is a form of printmaking which is done by drawing or painting on a smooth surface such as metal or glass, and transferred onto a sheet of paper by applying pressure. A printing-press is commonly used in the process.
The work of Michael Mazur has been featured in numerous solo and group painting, print, and drawing exhibitions, nationally and internationally. His paintings and monotypes are included in many prominent art collections in the USA and abroad. His work has been exhibited at the Museum of Modern Art, The Brooklyn Museum, The Whitney Museum, and the Metropolitan Museum of Art in New York among others.
Mr. Mazur died August 18, 2009 in Cambridge, Massachusetts at the age of 73.