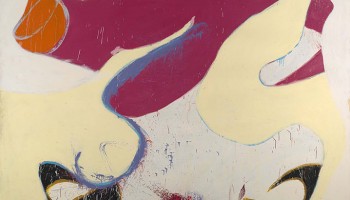 Norman Bluhm was born on March 28, 1921 in Chicago, Illinois. He studied architecture under Mies van der Rohe at the then Armour Institute of Technology before enlisting for service in the U.S. army in 1941 as a B-26 pilot. He returned to the U.S. after his tour of duty for a brief time in 1947. Rather than continuing his architectural studies, he decided to move to Europe where he studied art at the Academia de Belle Arte in Italy and at the Ecole des Beaux Arts in Paris. He continued to live in Paris for the remainder of the 40's and eventually returned to the U.S. in 1956. He married his second wife Carolyn Ogle in 1961 and settled in New York with their two children, David and Nina.
Norman Bluhm's art came at a time when the second generation of American Abstract Expressionist was gaining in popularity. Though his work had its origins in Abstract Expressionism and was certainly influenced by his contemporaries; he was able to craft a signature style that was uniquely his own. Primarily due to changing tastes in the art world, his work never did receive the level of attention achieved by some of his contemporaries. None the less, Norman Bluhm's art has received a respectable amount of praise by the critics and his art hangs in major museums throughout the world.
As an artist, Norman Bluhm continually sought new ways of expression and his art changed many times over the course of his career. His later works revealed an artist who was completely revitalized. Many critics consider his late work to be among his finest of his career. Sadly his resurgence was cut short by his death on February 3, 1999.