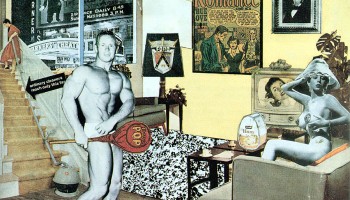 The Gagosian Gallery announced that Pop Art pioneer Richard Hamilton passed away early Tuesday at the age of 89. As of this writing, the cause of death is still unknown.
Hamilton was a pioneering art figure and is accredited as the "Father of Pop Art," a movement noted for its ironic and iconic use of pop-culture imagery.
His most famous work  "Just What Is It That Makes Today's Homes So Different, So Appealing?" — a collage done in the 1950's featuring a naked couple in a product-strewn home made him a celebrity. His images were thought provoking and often political, from Mick Jagger in handcuffs to Tony Blair as a cowboy.
The Gagosian Gallery said that Hamilton was busy working on a major retrospective of his work that was planned for  Los Angeles, Philadelphia, London and Madrid in 2013-14.
He is survived by his wife, Rita Donagh, and son Rod.