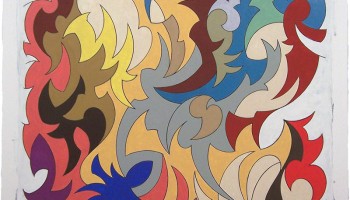 Stan Gregory was born in Tallahassee, Florida on September 22, 1948. He received a Graduate degree in painting at the University of South Florida, Tampa, Florida in 1980, thereafter, moving to New York City and setting up his studio…initially in Astoria, Queens and later in Williamsburg, Brooklyn. While in Tampa he helped found and was Director of the Artists Alliance Gallery, a cooperative gallery of 500 artists.
After moving to New York in the mid-1980's he began to transfer the linear, graphic qualities of his etchings and lithographs to canvas, subsequently foregoing printmaking and focusing on the formal aspects of painting.  Early paintings relied heavily on Cubist space but quickly became more reductive and focused. However, referring to his work as Minimal or austere misses what is arguably the primary intent of the work: the singular relationship between mark-making, surface considerations and color, coupled with the artists' graphic, sensual touch.
Historical references can be tracked from Medieval manuscripts and Japanese calligraphy, to the early phases of American modernism, and to the whimsy of urban graffiti.
The work is included in many prominent collections and has been shown in one person and group exhibitions worldwide.
Lean more about Stan Gregory at his website.