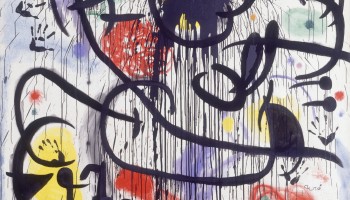 The Joan Miro Foundation in Barcelona Spain is presenting Joan Miro: The Ladder of Escape, featuring over 170 works spanning the career of one of the most important in influential artists of the 20th century. It is said to be the most comprehensive exhibition of Joan Miro's work in 20 years.
The exhibition draws its work from public and private collections around the world. The exhibition is a collaborated effort of the Tate Modern of London, and the Joan Miro, Foundation in Barcelona.
Joan Miro: The Ladder of Escape takes a look back at a career that spanned more than sixty years and focuses on the artists interpretation of his environment. From his youth spent in his native Catalonia to his reaction to the political turmoil and war that enveloped Spain during the first half of the 20th century and beyond.
After its presentation in Barcelona, it will move to the National Gallery of Art in Washington, where it will be on display until May 2012.