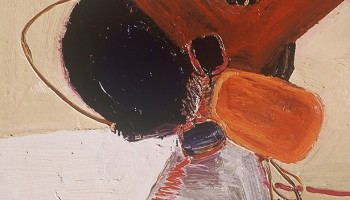 Born in Munich, Germany in 1937, Renata Bernal moved to the United States with her mother and settled in New York city at the age of 13.
She attended The Cooper Union for the Advancement of Science and Art in New York City, and later moved to California where she received a Bachelor of Fine Arts degree from the San Francisco Art Institute, and to Brown University in Providence Rhode Island where she earned her Masters in Art Education.  She has exhibited in New York City, San Francisco, Providence (RI), and in several cities throughout upstate New York. She has also taught art to both adults and children through the Robertson Museum in New York.
While attending the San Francisco Art Institute, she studied lithography and etching under well known artist Nathan Oliveira. Her studies also included ink drawing and woodcuts. Throughout most of the 1950's and 1960's she created primarily abstract expressionist paintings using oil paint on canvas. In the late 1960's she began experimenting with an acrylic airbrush. The paintings that followed are a dramatic departure from her earlier work. What were once canvases filled with bold expressive brushstrokes are now replaced with clean lines with an almost lyrical quality while still maintaining the rich color and luminosity found in her oil paintings. Bernal continued to use the air brush as her primary medium throughout the 1970's, 80's and into the 1990's.
Bernal's use of bold geometric shapes and linear arrangements often convey organic or cosmic themes. Her paintings show a bold yet refined sense of color and a profound mastery of line and form. Because of their massive scale, it was often difficult to find exhibition space to accommodate her paintings.
Renata Bernal is currently retired and lives in upstate New York where she continues to paint leisurely. She also writes poetry and participates in her local Unitarian Universalist congregation. You can see more of her work at her website.