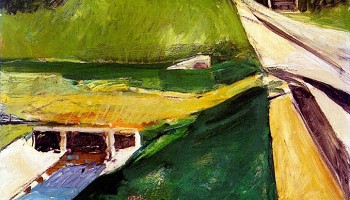 Born in Portland, Oregon on April 22, 1922, Richard Diebenkorn moved with his family to San Francisco, California at the age of two. He enrolled into Stanford University in 1940.  After graduating Stanford, Diebenkorn served in the Marines from 1943 to 1945. Once his tour ended, he moved to New York. Having been influenced the New York School of artists; he developed a his own unique vision of abstract expressionism while enrolled at the University of New Mexico and became a leading West Coast Abstract Expressionist.
He moved to Berkeley, California in 1955 and began to embrace figurative painting again by incorporating elements of abstract expressionism and European modernism. This style of painting became the catalyst for the Bay Area Figurative Movement whose members included Elmer Bischoff, James Weeks, Henry Villierme and David Park among others who would declare their independence from the New York School of artists.
Diebenkorn began painting abstracts again in 1967, but in a distinctively geometric style that was a clear departure from his earlier abstract expressionist paintings. At this time he started work on an ambitious project referred to as the "Ocean Park" series which are based on aerial landscapes. This series of paintings span more than twenty-five years, and includes more than 140 paintings. It is this body of work that he is best remembered by.
Richard Diebenkorn died in Berkeley, California on March 30, 1993, two years after receiving the National Medal of Arts award in 1991.